Emphasis on Integrated Studies and Independent Exploration
Emphasis on Integrated Studies and Independent Exploration
Montessori curriculum promotes learning in a larger context, on multiple levels, and from different perspectives, while respecting a child's preferences regarding timing and learning style.  In this way, children retain and subsequently apply the acquired knowledge more effectively than in a conventional educational system, where learning is more standardized, linear and externally imposed.  With scattered skills and difficulty in applying and generalizing them, ASD children can benefit profoundly from the emphasis in Montessori schools on in-depth learning at the expense of covering a larger quota of topics superficially.
 At its core, Montessori philosophy strives to foster initiative, curiosity, and independent research skills.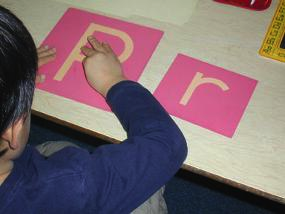 From an early age, children are encouraged to pursue their academic interests and passions, while learning methods and tools of independent research.  Students learn how to analyze, systematize, and present their findings on almost any imaginable subject.  Even children with lower-functioning autism have intense, albeit sometimes narrow, interests.  In a conventional public school setting, an autistic child would be compelled to subordinate such interests to a standardized curriculum, whereas in a Montessori setting this child would be encouraged to actively explore such interests, resulting in better engagement by the child on the main topic and additional learning in related topics as an unanticipated bonus.   For example, some ASD children perseverate on trains.  If encouraged to research the subject of trains, they could learn about train components (vocabulary, materials), train function (mechanics), train speeds (math), development of trains (history), and railroad routes (geography, geology), just to name a few related topics.